Zix|AppRiver Makes the Secure, Modern Workplace a Reality for Customers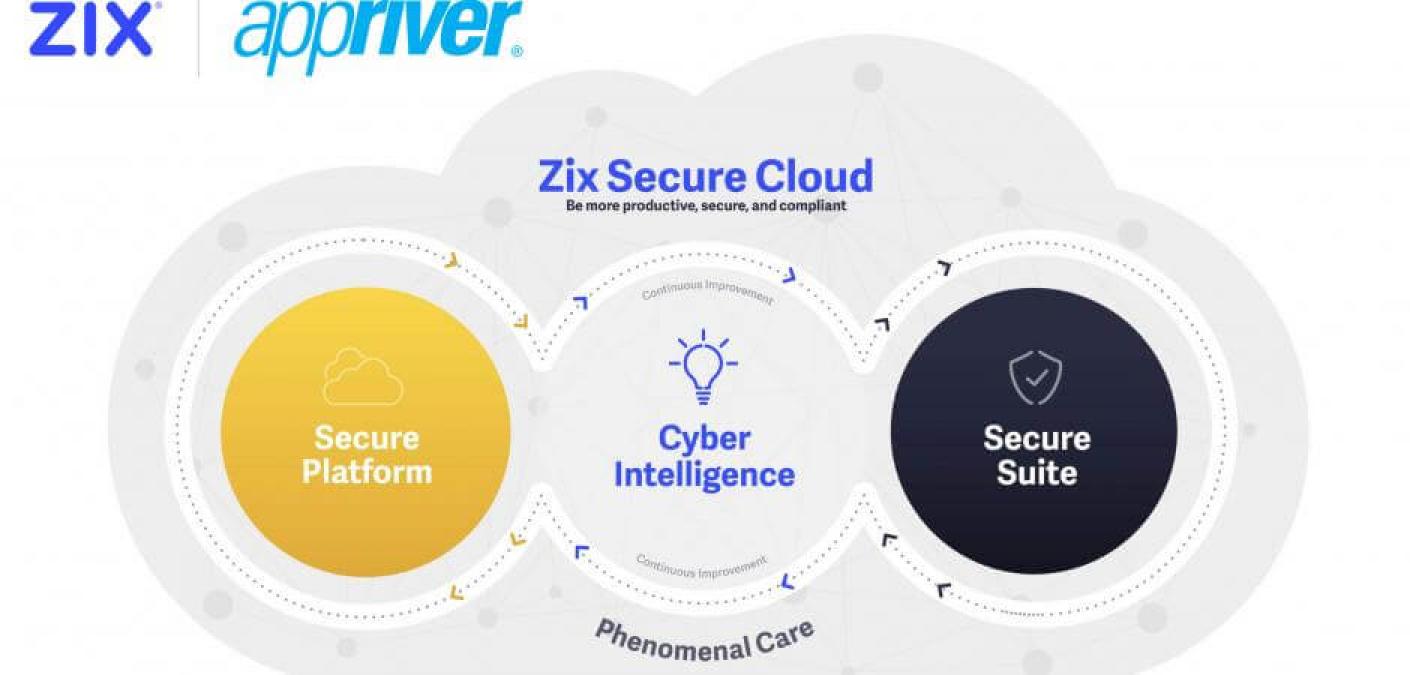 Secure Your Workplace
Over the past 20 years, Zix established itself as a leader in cloud-based email security, and one that grew into an even larger, stronger company in the past year through the acquisition of AppRiver, a go-to email security platform supporting 80,000 businesses globally and 5,000 managed service providers (MSPs).
Today we launched Secure Cloud, bringing together our proven security, compliance and productivity solutions on a secure platform, to empower customers and partners to establish a secure, modern workplace. We're helping businesses create a space where employees can collaborate securely and productively – a critical capability at times like these when businesses across industries are forced to adapt to remote work.
Secure Cloud consists of the Secure Suite of applications, including:
Productivity: A modern workplace for better data sharing, collaboration, flexibility, and remote work
Security: Reduced risks caused by human error and security-related obstacles to productivity. Threat detection and risk mitigation are constant, automated, and dynamic
Compliance: Best-in-class email encryption, secure file sharing, and business communications archiving (email, social media, instant messaging)
Cyber intelligence: Insights derived from our encryption network, threat and compliance research, complete Office 365 security audits, and advanced technologies
Phenomenal Care: 24/7/365 support team that addresses regulatory changes and active attack vectors while solving issues quickly with 97% first call-resolution
The Secure Suite brings together more applications than ever before, including brand new capabilities like Secure File Sharing and Digital Signing. With such a comprehensive suite of applications in place, customers are armed with everything they need to make greater productivity gains without compromising security.
What This Means for our Partners
The Secure Cloud creates a tremendous opportunity for channel partners to grow their business, starting with simply having more proven technology solutions that can help build and optimize their portfolios.
But perhaps one of the most powerful components of the Secure Cloud, particularly for MSPs, is the Secure Platform, a cloud-native architecture that delivers the capabilities of the Secure Suite at scale. The platform creates an intuitive end-user experience that allows for:
Centralized management with a single pane of glass, giving MSPs the necessary tools to access, extend and integrate the various applications of the Secure Suite
Easy product provisioning
Flexible, consumption-based billing
Simplified administration and reporting
And, because it's incredibly simple to use, it requires no training.
Setting our partners up for success has and always will be one of our top priorities. In the coming weeks, we'll be sharing resources and hosting live training for all our partners, including sessions tailored to MSPs and VARs. Stay tuned for more information on partner enablement for Secure Cloud.
Zix and AppRiver have always been dedicated to providing powerful solutions for securing communications, but Secure Cloud is the pinnacle of our shared vision to help customers and the wider partner community embrace a secure, modern workplace – the lifeblood of any company operating in today's business environment.
Whether you're looking to enhance productivity or regulatory compliance, protect against threats, or migrate to the cloud, Secure Cloud is here to help you, or help your customers, set up and maintain a workplace for the future.