Chapter 7
How Distributed Leadership Supercharged Sedcom's Growth
It was Saturday night and Craig Butler's restaurant had a full house—around 150 diners. As the area manager, Butler was flitting between the kitchens, bar, and dining room, ensuring everything was running smoothly.
But just as he was starting to relax, a culinary catastrophe hit. The kitchen's ovens went down.
In the blink of an eye, the restaurant lost half of its menu. Butler snapped into crisis management mode. He sprinted from table to table, apologizing profusely, revising orders, and placating frustrated customers.
At the end of the night, an exhausted Butler was called over by table eighteen. Expecting another complaint, he forced a smile on his face.
But the diner didn't want to complain. In fact, he was so impressed at how Butler handled the crisis that he wanted to offer him a job at his IT firm.
It was too good an opportunity to pass up. Butler shook the man's hand, lighting the touchpaper on an immensely successful career.
Learning the ropes
The job was account management for a small IT business in Essex called Link Systems. Despite never having worked outside of hospitality, Butler discovered he had a natural affinity for technology. He had a naturally customer-focussed mind and could leverage the strong interpersonal skills he developed in hospitality to build client relationships.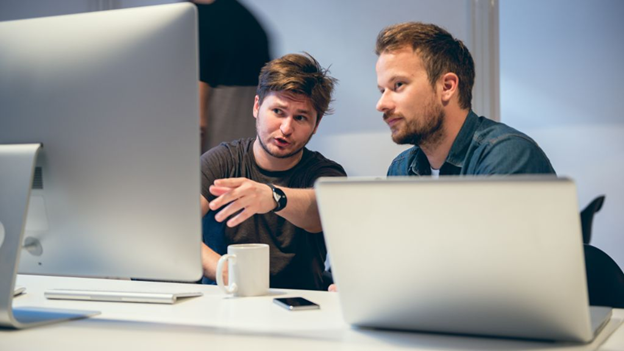 He outgrew Link Systems quickly and left for a larger IT provider called Utilize, joining as a technology services consultant. He was there nearly nine years before leaving to join MCSA, a mid-market provider. His time there was cut short due to an acquisition, prompting Butler to consider his next steps.
He says he felt like he was at a crossroads, and didn't know what to do next. Although he had management experience from his time in hospitality and junior management roles at Utilize he'd spent the majority of his entire IT career in individual contributor roles. Stepping into senior management felt daunting—but many in his social and professional circles encouraged him to go for it.
"I spoke to a few of my friends and ex-colleagues," Butler explains. "They all said, 'You're ready to take the next step. You're ready for a director-level position. Have a crack.'"
So take a crack he did.
He found a commercial director job ad from a local company called Sedcom and applied. After a series of rigorous interviews, he landed the job.
Butler spent his first few weeks listening and learning. What sort of clients did Sedcom support? How skilled and experienced was its workforce? How did its business model operate? By peeling away each layer, he came to understand the organization.
Something he discovered early on was that Sedcom's success relied heavily on Dean Rolfe, the company's founder and managing director. Rolfe bore the brunt of the business development and day-to-day management burdens, something Butler knew was unsustainable.
"Dean started this business 16 years ago and nearly every single one of our customers has come via direct or indirect referral from Dean," Butler explains. "You can't ask him to also run the business alongside all of that work."
To support his new boss, Butler stepped in wherever possible, alleviating some of the burdens once borne by the managing director. For example, one early project was auditing Sedcom's partnerships, improving the ones with potential and cutting unprofitable ones.
Butler describes the palpable "sense of relief" in Rolfe as he began to share the burdens of leadership. "Imagine doing everything on your own for 16 years," Butler says. "Now, Dean could focus on what he was best at."
But this was just the start. Over the next two years, Butler introduced more and more distributed leadership, giving a voice to every employee at the company. It started with Sedcom's other directors.
Forming a leadership team
In December 2019, Butler stepped into a new role: Operations Director. He began overseeing day-to-day management and could take more control of company strategy. One of his first projects was to improve collaboration and cooperation between departments.
When he'd first arrived, he discovered a workforce focused on the day-to-day. While that drove excellent delivery standards, he knew the organization as a whole was suffering. To enhance inter-departmental communication and collaboration, Butler formed Sedcom's Leadership Team (SLT), composed of all the departmental heads: its technical director, service delivery director, managing director, and so on.
He encouraged them to think about the organization as a whole, rather than their team individually.
"What do we, as Sedcom, need to be aware of?" Butler says, recalling an early meeting. "What are we actually trailblazing? What are people worried about with us? What are we worried about with others?"
The SLT's greatest test came in the spring of 2020, when the whole world was rocked by the COVID-19 pandemic. Faced with looming healthcare and economic crises, they beefed up the organization's business continuity plan and migrated its workforce to remote working. But they weren't just focused on survival. In fact, the group used the pandemic as an opportunity to dismantle and rebuild its service delivery method to be stronger, leaner, and more profitable.
Before the pandemic, Sedcom offered a uniform service plan to all of its customers. While this suited the average business, it didn't make sense for customers at the extremes. Some customers needed virtually no assistance, while others demanded round-the-clock support.
"We decided to tier our service because certain businesses demand certain things," Butler explains. "It's very important that each customer knows what they should expect and what they can demand."
The SLT liaised with employees and reached out to existing customers, learning about what sort of support their customers needed. With that information, they rebuilt Sedcom's service delivery model following a tiered structure. Companies that didn't need split-second response times and same-day fixes could take out a lower-tier service. Meanwhile, companies that needed to be online every second of the day could opt for a more exacting option.
In the process of rebuilding Sedcom's service delivery model, Butler tapped Sedcom's employees, accessing institutional knowledge and expertise. That inspired him to launch another distributed decision-making group, one that included every last employee.
Crafting a steering committee
Sedcom employs 21 people. That's 21 employees with varied perspectives, skill sets, and ideas. Butler saw them as an invaluable resource and began planning how to harness them. He came up with the idea of a steering committee, something akin to an employee "think tank."
"They throw in their ideas, anonymously if they want, and we review them within the leadership team," Butler explains. "We evaluate what could work and what won't. If an idea is a non-starter, we always give feedback."
Engagement with the steering committee started slowly. Butler's initial plan was to run the committee as an informal meetup over pizza and beer. But during the pandemic, he's been limited to Zoom. It's tough to get people to open up via a video call, he says. It feels like a formal conversation, rather than a relaxed chat. But meeting by meeting, things have improved.
People began revealing day-to-day process frustrations. They're not just focused on problems, either. Butler says Sedcom's employees are devising solutions to challenges he didn't even know existed.
Building a peer network
Creating distributed leadership groups set a strong foundation, but Butler wasn't finished yet. He knew the world was full of exceptionally bright and talented people and he wanted to learn from them all. So he gathered a group of geographically diverse MSP business leaders and built a peer support network.
Once a month, Butler meets with leaders in his network to share ideas, discuss problems, and solicit feedback. Tapping outside MSP owners and managers has been a boon for Sedcom.
They've run joint tenders and delivered white-label service to cut down on-site travel time. When the pandemic is over, Butler plans to organize roadtrips to each site to learn how different organizations are structured and run.
"MSP businesses are working on similar things and facing similar challenges," Butler says. "Our network allows us to help each other, because a problem shared is a problem halved."
If you like Craig's story and want to connect with a UK-based MSP, connect with Sedcom here.